Sharks scrumhalf Sanele Nohamba's composure and determination has set him apart in his breakout season, writes JON CARDINELLI.
Last year, Nohamba came off the Junior Boks bench to slot a couple of late penalties and clinch a famous win against the New Zealand U20 side. The cameo highlighted the young halfback's composure and marked him as one for the future.
'I often practise those scenarios in training,' Nohamba told SARugbymag.co.za. 'I tell myself, "OK, there are a few minutes left and you have to kick this to win the game." I put pressure on myself and practise those kicks from different angles.
'When the moment arrived last year, though, I was nervous. I had to tell myself to remember the process and my preparation. I had to get over the shock of the fact that I was finally living that big moment. I took a lot of confidence from that performance, though.'
ALSO READ: Beast marvels at Ox Nche's progress
Nohamba received a call-up to the Sharks Super Rugby side this year. The opening game against the Vodacom Bulls was in the balance until Andre Esterhuizen bulldozed his way through a couple of defenders and found Nohamba with an inspired pass.
The replacement scrumhalf had men on his outside, but was quick to identify the space and ultimately the try-scoring opportunity. A new star was born.
'I have to give credit to the forwards for getting us into that position and to Andre for setting it up,' he said. 'To score on my Super Rugby debut … I actually don't have words to describe the feeling.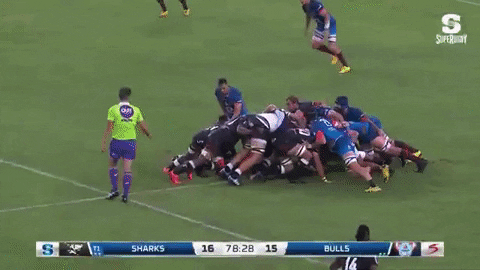 'There's a great vibe off the field and we really care about one another at the Sharks. I suppose that helps with how you perform on the field, too. What I can say is that we back each other wholeheartedly.'
Nohamba's composure was put to the test again when the Sharks suffered a series of setbacks while they were in New Zealand. Curwin Bosch missed the match against the Hurricanes due to a family bereavement and then starting flyhalf Boeta Chamberlain broke down in the early stages of the contest. Nohamba – the only halfback on the bench – was forced to spend most of the game at No 10.
'When Sean [Everitt] picked a six-two split on the bench, the coaches explained that I would have to cover 10 in the event of an injury. You don't expect it to happen, but when it does, you have to adjust very quickly.
'I'd played flyhalf at school, so it's not like I wasn't equipped to do the job. I had some experienced guys around me and that helped me to settle. It was a tough game in terms of injuries, but everyone adopted an attitude of "Let's get on with it".'
BEAST MTAWARIRA: It's my duty to help youngsters
The 21-year-old has taken significant strides in his breakout season. SARugbymag.co.za understands that the young scrumhalf has caught the eye of the national selectors and may be part of the wider training squad – and could even get game time – when the Springboks play later this year.
'Mentally, I've grown a great deal,' Nohamba said. 'A few years back, I just used to rock up to a game and jol. Now I'm playing Super Rugby, and the preparation ahead of a game is so important. You've got to be more mature. You've got to do your analysis on the opposition and you've got to know your own gameplan down to the smallest detail.'
While Nohamba isn't getting ahead of himself, that dream of representing the senior South African team is certainly closer than it was before.
'Everyone dreams about playing for the Boks. It would mean a lot to my family, and perhaps to my teammates too. Without them I wouldn't have got there.
'I owe so much to the Sharks for giving me my shot,' he added. I can't say whether I will play for the Boks this year. What I can say is that I will continue to give everything to my union and to play my heart out. Hopefully the rest will take care of itself.'